Join us on Wednesday, November 22nd from 11am to 1pm at Nixon Elementary for our 6th Annual Community Capture the Flag event! This is a FREE event to thank everyone who has supported Run for Fun Camps! Friends, parents, siblings, neighbors are all invited to participate! The game begins at 11am and we will be serving free pizza at 12:15pm. All ages are welcome and encouraged to participate!
Please sign up in advance so we have an idea of how much pizza to order: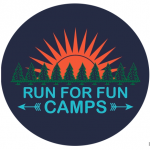 We will be selling raffle tickets for $5.00 a ticket. All donations go directly toward scholarships to our summer camps for youth!! You can win $50.00 off summer camp, a free Winter Session of Run for Fun, a free spot at an upcoming Holiday Camp or free Run for Fun gear.
1 ticket = $5.00
5 ticekts = $20.00
10 tickets = $40.00
Arms length = $50.00
Have you ever wanted your own Run for Fun gear?
Our new gear will be on sale at this event! Gear can be purchased using cash or credit!
**The event is played in rain or shine! In the case of heavy rain we will have a make-up game on Thanksgiving morning at 11am.