David Barth: Director and CEO of Run for Fun Camps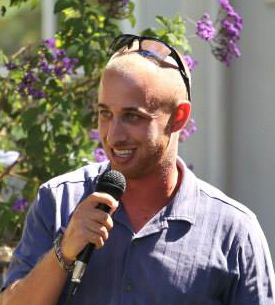 Coach Dave grew up in Los Altos, where he loved to play sports! He spent much of his free time playing basketball and tennis. Dave loved summer more then any other time of the year because he got to attend a variety of camps. It was during these years that Dave learned why camp is so important! He realized that you get to spend time with friends, play and spend time in a beautiful setting. Many of Dave's camp friends are still close friends today.
Dave attended Boston University where he ran track & field, interned in the Boston University Athletics department and majored in International Relations. He was also a chair on the Student Athlete Advisory Council. Through years of giving back to the Boston Community, Dave was recognized with both the Scarlet Key award and the Student-Athlete Service award for his dedication to Boston University Athletics, Boston University, and the greater city of Boston.
Dave spent three years working as a counselor during high school at Decathlon Sports Club, worked as a tennis pro at Stanford Campus Recreation Association, coached with after school basketball programs, worked for ten years at the Boston YMCA's Sandy Island Family Camp as a counselor, tennis pro, teen program director and program director, and has coached the Los Altos High School track & field team for the last 6 years.
Dave's time as a camper, coach and counselor has set him up to be a great camp director. He loves playing games with kids and having the chance to connect with each camper on a one –on-one and group level.
Katy McLaughlin: Director of Run for Fun After School Programs & Assistant Summer Camp Director
Katy grew up outside of Boston where she loved to play volleyball, lacrosse, and do gymnastics. In the summertime she always attended camp at Merrowvista where she hiked and biked her way through New England, and at Sandy Island Family camp where she enjoyed island life on Lake Winnipesaukee with her family. Katy worked for one summer at Merrowvista as a leader for campers aged 8-11. Then she worked for five summers at Sandy Island as a lifeguard, boat driver, assistant teen director, and assistant waterfront director. After high school Katy attended Keene State College where she studied Communication and Sociology and played a year of volleyball. After graduating in 2015 Katy went on to complete 10 months of national service with AmeriCorps NCCC. She lived all over the southwest region of the US doing a variety of different community service projects.
Ari Kinder: Director of Run for Fun After School Programs & Assistant Summer Camp Director
Ari grew up in the small town of North Haverhill, NH. Surrounded by the White Mountains, Ari spent most of her time outdoors hiking, paddle boarding and spending quality time with her close friends and family. She has played many hours on both soccer fields and basketball courts in high school and college. In 2014, Ari graduated with a degree in Exercise and Sport Physiology from Plymouth State University. During the years of college she worked with many PSU athletes, was involved in a balance study and did an internship with Choice Physical Therapy. Ari coached a 4th, 5th and 6th grade soccer team and volunteered many years coaching for the Haverhill youth basketball league.