David Barth: Director and CEO of Run for Fun Camps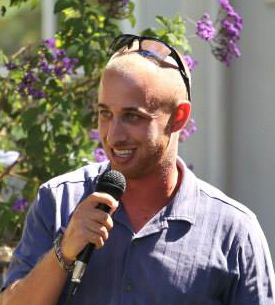 Coach Dave grew up in Los Altos, where he loved to play sports! He spent much of his free time playing basketball and tennis. Dave loved summer more then any other time of the year because he got to attend a variety of camps. It was during these years that Dave learned why camp is so important! He realized that you get to spend time with friends, play and spend time in a beautiful setting. Many of Dave's camp friends are still close friends today. Dave is married to his wife Emily who is an Elementary School teacher in Los Altos and they have a 2 year old son Jackson. Dave loves playing games with kids and having the chance to connect with each camper on a one –on-one and group level.
Andrew Brown: Summer Camp Co-Director
Coach Andy hails from the Finger Lakes region of Upstate New York. Andy grew up going to a YMCA summer camp nestled on his hometown's Owasco Lake, with the open air around him and many a game to play in the outdoors. Andy later started to focus on his love for any and all sports, which led him to attend Syracuse Basketball Camp for a couple summers. Many of Andy's closest friendship came through camp and sports!
As time went on Coach Andy found himself back at his childhood camp, this time serving the youth as a Senior Cabin Counselor. After three summers, he was promoted to the Program Director of the camp, where he spent an additional three seasons before moving on to attend SUNY Cortland to pursue a Bachelor's degree in Recreation Management. You could say that the camp bug had bitten him, and a career in the youth recreation arena was inevitable.
Coach Andy spent his time at SUNY Cortland gaining as much experience under the youth recreation umbrella as he could; working for organizations such as Elmcrest Children's Services, YMCA, YWCA, Cortland Youth Bureau, even a summer working on the grounds of a golf club. He has since graduated, completed work for Syracuse University's Recreation Services Department, and is FIRED UP to have re-entered the youth recreation realm and serve the bay area.